Our new Twitter account is now available
ACASC MEMBERS ELECT 2017-2018 STUDENT MEMBER OF THE BOARD, ACASC PRESIDENT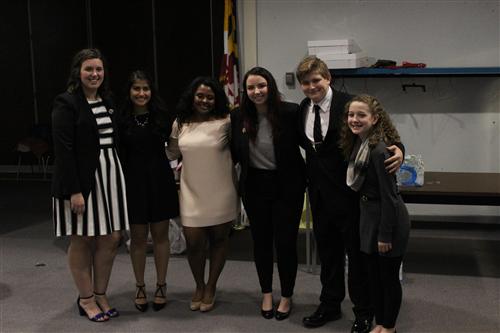 Alexis Lashbaugh, Delanie Blubaugh to Represent School System on County Student Council
The Allegany County Association of Student Councils (ACASC) recently held its annual elections for the non-voting Student Member of the Board of Education (SMOB) and association officers for the 2017-2018 school year. Alexis Lashbaugh of Allegany High School and Delanie Blubaugh, also of Allegany High School, will become the newest SMOB and ACASC president respectively. Lashbaugh will succeed Zachary Sterne on the school board and as vice-president of ACASC. Blubaugh will serve as the alternate SMOB in addition to the ACASC president.
Alexis is a member of the National Honor Society and consistently makes the Principal's Honor Roll. She feels that she is well qualified for this position because of her leadership and time management skills. "I have attended multiple leadership conferences within the school year which have provided me with quality leadership skills." She went on to say, "I am involved with school-related activities, but I do not overwhelm myself. I manage my time well."
As the SMOB, Alexis plans to give detailed reports to members of the ACASC and her peers. "I will meet with other student councils and create SMOB reports to update my peers on the latest news. I will also serve as a role model for those who follow me."
Delanie Blubaugh is involved in a number of organizations at Allegany High School. She feels that she is well prepared to lead the members of ACASC. "I'm very dedicated to student council and take great pride in having the opportunity and ability to voice opinions as a representative in government." She continued, "I'm well qualified as I've been in student council since middle school and have held many positions on school, county, and state levels."
Delanie has several plans during her term as the president of ACASC. "I'd love to work with three local groups such as the Allegany County Animal Shelter, Resources for Independence and the Cumberland Food Bank." She went on to say, "I'd also like to organize public forums and seminars dealing with different issues, specifically student safety."
All candidates were evaluated on poise, attire, communication skills, general knowledge, speech, and leadership potential. Other 2017-2018 officers of ACASC include Jocelyn Weston, Public Relations Officer, Allegany High School; Umailla Fatima, Secretary/Treasurer, Allegany High School; Peyton Porter, Parliamentarian/Sergeant at Arms, Mountain Ridge High School; Haley Llewellyn, 2nd Vice President/Middle School Representative, Westmar Middle School.
Published 3/31/17
FUTURE BUSINESS LEADERS OF AMERICA ADVANCE TO NATIONAL COMPETITION
​Clay Hoover, 2nd place, Graphic Design; Sean Fiscus, 2nd place Introduction to Financial Math; Chris Palasik, 1st place Business Calculations
ALLEGANY HIGH SCHOOL SENIOR NAMED SCHOOL WINNER IN WENDY'S HIGH SCHOOL HEISMAN
Kristian Robinette Honored as Exceptional Student Athlete

Wendy's High School Heisman program has recognized Allegany High School senior, Kristian Robinette, as a School Winner. The program highlights exceptional high school seniors and their achievements in the classroom, on the field, and in the community. Each school winner will receive a certificate and a Wendy's High School Heisman patch.
"These students are known by their teachers and friends for their commitment to excellence," said Allegany principal, Mike Calhoun. "We are excited and honored that a program like Wendy's High School Heisman is also recognizing their hard work."
Since 1994, Wendy's and the Heisman Trophy Trust have honored more than 600,000 of the nation's most esteemed students. This year, Wendy's will celebrate the accomplishments of thousands of the best high school seniors, awarding winners in five phases.
For more information or to track a student's progress throughout the competition, visit 
www.WendysHeisman.com
.
2017-2018
Allegany Teacher of the Year
Jennifer Sagal
Announcements

---
Student Links
>>Yearbook Purchase
>>Yearbook Registration

>>Allegany ALUMNI Website
---
WEEKLY ACTIVITIES
BE ON TIME – BE RESPECTFUL – DO YOUR BEST
ALLEGANY CAMPERS
Weekly Activities Schedule
MONDAY, May 1
AP Chemistry & Environmental Science Exams (AM)
AP Psychology Exam (PM)
Tennis vs. Bishop Walsh Home 4:00 PM
JV Softball vs. Meyersdale Away 4:00 PM
V Softball vs. Bishop Walsh Away 4:30 PM
Baseball vs. Southern Away 4:30 PM
Acting Out for ALS in the Auditorium (1-9 PM)
TUESDAY, May 2 "National Teacher Day"
PARCC ELA 10 Units 1 & 2 (A-L)
AP Physics 1 Exam (PM)
Softball vs. Fort Hill Home 4:30 PM
Indoor Ensemble Community Appreciation Night in the Gym 7:00 PM
Acting Out for ALS in the Auditorium (6-9 PM)
WEDNESDAY, May 3
Refreshments in the Faculty Room Sponsored by the Academic Endowment
Committee 7:20 AM
PARCC ELA 10 Units 1 & 2 (M-Z)
AP English Literature & Composition Exam (AM)
AP Physics 2 Exam (PM)
Tennis vs. Mountain Ridge Away 4:00 PM
Track vs. Mountain Ridge Away 4:30 PM
Gridiron Club Meeting in the Library 6:00 PM
Acting Out for ALS in the Auditorium (6-9 PM)
THURSDAY, May 4
PARCC ELA 10 Units 3 & 4 (A-L)
AP Government Exam (AM)
Pupil Services Meeting in Room 146 9:30 AM
Student Achievement Awards Banquet at the Fairgrounds 6:30 PM
Indoor Ensemble at ACC Championships in Wildwood, NJ (May 4-7)
FRIDAY, May 5
PARCC ELA 10 Units 3&4 (M-Z)
AP US History Exam (AM)
Academic Endowment Committee Meeting in the Library 12:30 AM
Baseball vs. Mountain Ridge (JV at Armory) Away 4:30 PM
Softball vs. Southern Away 4:30 PM
SATURDAY, May 6 "National Nurses Day"
SAT Test at Allegany High School 7:30 AM
Track at Turbin Invite (Keyser) Away 11:00 AM
Tumbling Exhibition Set-up in the Gym
SUNDAY, May 7
Tumbling Exhibition in the Gym 6:00 PM
Detention Hall Duty May 1 Mrs. Ditto
May 2-3 Mrs. Dunlap
May 4, 8 Mrs. Edwards
                                      
BE ON TIME – BE RESPECTFUL – DO YOUR BEST
Preparing all students for tomorrow's challenges – life, college, career.
FIDDLER ON THE ROOF
The Allegany High School Drama Club will be presenting Fiddler on the Roof with music by Jerry Bock, lyrics by Sheldon Harnick and book by Joseph Stein. The show will be presented on April 27 th  through April 29th at 7 pm and April 30 th  at 2pm. 
Fiddler on the Roof is based on a series of stories by Sholem Aleichem, entitled Tevye's Daughters.
A story set in the small Jewish village of Anatevka, around Tevye, (Tai Bauman) the father of 5 daughters, and his attempts to maintain his Jewish religious and cultural traditions as outside influences encroach upon the family';s lives. He must cope with the strong-willed actions of his three oldest daughters: Tzeitel (Payton Chronister), Hodel (Autumn Holt), and Chava (Sierra Golden) as they explore a life beyond tradition. The cast is made up of students from Allegany High School and Braddock Middle School.
The show is under the direction of Mrs. JackieWadsworth with choreography by Shannon Warner of Dixon Dance Studio. The orchestra is directed by Mr. Brian Plitnik.
Rod Horning, Robert Courtney, and Paul Chiarenza are set designers with help from artistic designers Reid and KathySmith. Costuming is under the direction of Julie Courtney.
Tickets are $10 for adults and $8 for children. Senior
Citizens may receive a discount on the Sunday performance with tickets at $8.
Tickets are available at The Book Center on the Downtown Cumberland Mall, the Allegany High School lobby, or by calling 301-722- 4813. Tickets will also be available at the door each evening.
Donations for Jane`s place, Inc., a child advocacy center will also be accepted.
ALLEGANY SENIOR ACTIVITIES
April and May
2017
Monday April 10 Senior Class Meeting – Auditorium 9:30 AM
Tuesday April 18 Ralph R. Webster Memorial Award voting – ballots in Grade 12 English classes.
Wednesday April 19 Welcome Home Awards voting- ballots in Grade 12 English classes.
Friday April 21 Babst Award voting for All-Around Senior Boy Athlete during English class
ALL STUDENTS VOTE
Faherty Award voting for All-Around Senior Girl Athlete during English class
ALL STUDENTS VOTE
BOE "Participation in Graduation" form due to main office
Friday April 28 Senior Obligations payment will be cash only from this date.
Saturday May 13 Senior Prom at the Windsor Castle from 8 to 11 PM
Cost: $15 per person/$25 Couple
Tuesday May 16 Traditional "Dress-Up" Day
Senior Luncheon in the Cafeteria
(Seniors must pay class dues in order to attend the Senior Luncheon)
Thursday May 18 Senior Locker Clean-Out and Inspection
Friday May 19 LAST DAY FOR SENIORS
Class Picture (Auditorium 8:40 AM)) & Senior Brunch (Cafeteria 9:00 AM)
(Seniors must pay class dues in order to attend the Senior Brunch)
Sunday May 21 Baccalaureate @ Cresaptown United Methodist Church 7:00 PM
Tuesday May 23 Senior Graduation Practice in Gym at 9:15 AM
Report cards will be distributed.
Graduation will be in the gymnasium at 7 PM
All seniors report by 6 PM – be ready in cap and gown by 6:30 PM for the Processional.
If you wish to participate in graduation, it is required that you ATTEND PRACTICE. If you do not attend the practice, this will be considered an indication that you do not wish to participate in the graduation ceremony.
Practice will be held on TUESDAY, May 23rd from 9:15 – 11:30 AM
Report to the Gymnasium.


---
History of Allegany
Allegany High School was initially a secondary education school held on Maryland Avenue. The school had many different locations including the building on Greene Street, which was used as a combined middle/high school until the spring of 1926. At that time, the building now known as Allegany High School had been completed and was prepared to accept Greene Street's high school students. Middle school students remained on Greene Street until the school later burned down in 1932. "Camp Hill," the site of the present day Allegany, was a federal army camp during the Civil War.
The "Camper" mascot is a source of much confusion. Many think the name refers to Campobello, a Shawnee Indian Tribe camp, from which the federal army took their name during the Civil War. This, however, is a misconception. The most widely accepted theory is that Civil War General Lewis Wallace and his men began calling the site that during their time here. The word Campobello in fact does not appear in any Native American language and is derived from Latin, meaning "camp of war".
Allegany High School, with an enrollment of approximately 670 students, focuses on student achievement and success in all areas of education through a combined effort of students, faculty, staff, home, and community. The class of 2008 marked an important milestone for Allegany: the students were the 120th class to graduate from the long-standing institution.
Vision/Mission Statements
Allegany High School

MISSION STATEMENT
Education must be a cooperative effort involving the student, the teacher, the home, the school, and the community. Recognizing that the student must be the focal point of our education program, we must instill a desire for learning and create a learning environment in which the student can learn and develop according to ability and interest. The curriculum must emphasize life skills, preparation for continuing education, and preparation for employment to enable our students to become responsible citizens and enjoy a productive life. The school must ensure an atmosphere that will promote learning through the cooperative effort of staff, students, family, and community working together.